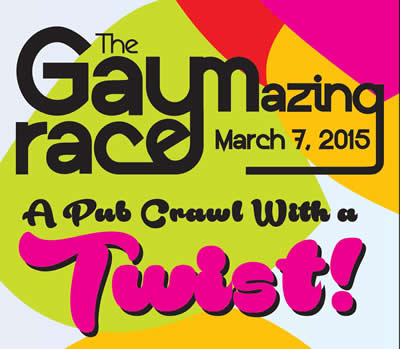 Get ready for pub crawl like you've never seen. There will be brunch, there will be drinking, there will be challenges, there will be an after party, and there will be prizes. On Saturday, March 7, 2015, join us for the 6th annual GAYmazing Race.

Teams of 2 to 5 people will have to make their way through a French Quarter Crawl and answer questions and complete challenges based on HIV prevention information. And there may be a few "roadblocks" thrown in to keep things interesting. Winners will be determined by overall time and successful completion of all tasks. The Gaymazing Race does not require actual running.
Prizes aren't just for first, second and third place. Best team name will also garner a prize basket, and we may even have some surprises in store for last place and a few other categories.
What are these fabulous prizes you ask? We've got restaurant gift certificates, bar tabs, a few things for use in the boudoir, wine, vodka, and more!
All you have to do is get together some friends or co-workers and form a team of 2 to 5 people. The registration fee is $10 per person and will cover your brunch that morning (you can't do a pub crawl on an empty stomach!), GAYmazing Race materials and Post-Race Party. Registration is only open to people 21 years of age or older. And yes, we will be checking ID's! Participants should also be aware, the cost of drinks during the pub crawl is not covered, so make sure you have cash on hand. You never know what your challenges will involve!!!
GAYmazing Race Schedule – Saturday, March 7, 2015
11:00 AM – NOON – Brunch & Registration/check-in @ 507 Frenchmen St. (CAN Office)
NOON – 2:30 PM – GAYmazing Race takes place
3:00 PM – Post Party at Mag's 940 (formerly JohnPaul's)
GAYmazing Race Study Guide
You didn't think we were going to make this easy, did you? Each stop along the pub crawl will feature a question or challenge involving HIV prevention information. We thought we'd give you a little help, though. Below is a list of websites that you can look through to prepare yourself for the challenges.
And to get you started off, we'll give you a hint. There are seven steps to putting on a condom . . .
Study Guide websites: