Art Against AIDS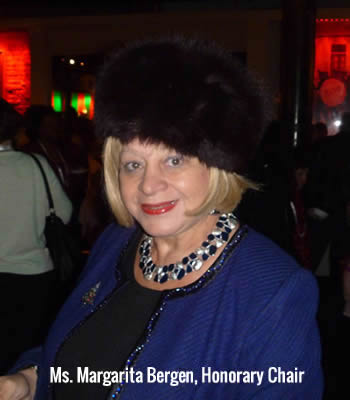 The holiday season is already near and that means Art Against AIDS is right around the corner. Your support of our event is truly a gift that gives hope. The 29th annual Art Against AIDS will be held on Friday, December 4 at Club XLIV on Champion Square at the Mercedes-Benz Superdome. We are excited to announce that New Orleans' "Dahling" of the city's social scene, Ms. Margarita Bergen is our honorary chair.
Ms. Bergen, a longtime supporter of NO/AIDS Task Force and former owner of the internationally famous, Bergen Gallery, is currently the owner of Casell Bergen Gallery in the French Quarter which features original pastels by Joaquin Casell, oils by Rene Ragi, Bedonna and others, as well as limited prints by Terrance Osborne and Michalopoulos. She is also a society columnist for New Orleans Living magazine.
Supporters like you have come together to help us raise much needed funds for the men, women and adolescents affected by HIV/AIDS in our community. Currently, New Orleans ranks in the top five cities in the country for new infection. While we have made great strides in treating this disease, there is still no cure.
Art Against AIDS has become New Orleans unofficial kickoff to the holiday season. The event began with local art students making holiday ornaments to sell and raise money. Today, our Gala hosts some of the finest of what New Orleans offers: great food from local restaurants, a holiday boutique, a juried auction of art, local merchandise and staycation packages.
Thousands of people with HIV/AIDS in the New Orleans community count on us for primary health care, behavioral health services, medication disbursement, meal delivery and pantry services, housing and prevention education. We hope that we can count on you so that we may continue to make a difference in our community.
Know that each donation is a gift of hope to the many living with HIV/AIDS in our community. Your support is appreciated!
Entertainment provided by Randy Roberts
You have seen him on America's Got Talent and now you can see him right here in New Orleans! Mr. Randy Roberts, one of America's top female impersonators and headliner at the Crystal Room Cabaret at Key West's Le Te Da, will be a featured performer at this year's Art Against AIDS Gala on Friday, December 4.
Roberts has been performing for more than 30 years. Due to his spot-on impersonations of icons like Cher and Bette Midler, he has captivated audiences for decades. His impersonation roster of famous ladies includes Mae West, Joan Crawford, Joan Rivers, Carol Channing, Ann Miller, Phyllis Diller and more! He has performed in New York, Las Vegas, Atlantic City, Atlanta and even internationally. He also joined the cast of the critically acclaimed independent film, Any Day Now, starring Alan Cumming. The film has captured 11 film festival awards.
"I have seen Randy's entire show in Key West," says Rodney Thoulion, director of development at NO/AIDS Task Force. "Randy is a true impersonator who performs and sings every song, channeling every detail of the diva he is impersonating. He is a real talent and should not be missed."